Righteous Housewives

When Emma Harris, a passionate elderly widow, decides to marry a younger man, the women around her take sides: those who support her, and those who will try to stop the wedding. Emma's quest becomes the springboard into the lives of six Mormon women and their marriages. Set in Utah's most conservative county, the novel is enchanting and honest with touches of magical realism and raw eroticism, a story that examines love, marriage, faith, and the familial negotiations that intersect in the pursuit of happiness.
In 1957, faith, destiny, and accidents, all collide in the protagonist's life to tame her aspirations: "Emma never forgot the aroma of that dream, the fiery kisses of red chili peppers activating her taste buds, preparing her to enjoy the rich texture of his lips. That mischievous burning remained in her long after she woke up and found him gone. It stayed in her as vividly as their first touch, for years and years." So begins Emma's tale, a meditation not only on life choices, but also on the resilience of the human spirit.
When her first love is not realized, Emma marries returned missionary Spencer Harris. Their marriage is a comfortable haven that lasts more than four decades. Years after becoming a widow, while hospitalized after a stroke, she meets Dimitri Kross, an Estonian violinist. All the certainties in Emma's life are thrown into turmoil when she decides to marry for the second time in her life.
Note: This book has not been published. A preliminary hard cover limited edition (50) has been produced as a thank you note for the sponsors of the play in which the novel is based.
---
The Marién Revelation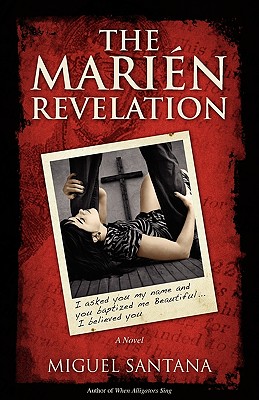 About to turn forty, Marien Valbuena, finds herself evaluating her relationships, her faith, and her life. Two millennia separate her and Mary, a young woman in Ancient Judea. While Marien can't find a reason to hold on to a complicated pregnancy, Mary shelters her own on the intricacies of a prophecy. Intertwined across time, the lives of these two women come together, inviting us to reconsider the fine lines between fiction and reality, between myth and assumed truth.
In this novel, Miguel Santana is revealed as a mature and visionary writer. He masterfully weaves passages from the Bible and other sacred texts into his imaginative and poetic prose. Readers are transported to a world where they not only recognize the pillars of our civilization, but also feel the need to question them.
"An intricately woven tapestry of ancient wisdom, of throbbing sexuality, and of spiritual desolation and exhilaration. This book is bursting with energy and inventiveness." Theodore W. Jennings, author of The Man Jesus Loved.
---
When Alligators Sing

Set against the background of the Mexican-American border, this story is the saga of Aida, a Tarahumara Indian who meets, falls in love, and waits fifty years for the American soldier who promised to return. Miguel Santana offers a tale of four generations of a family whose enterprising sprit and passion for life are matched only by their misfortune in love. The majesty of the Tarahumara mountains, the hardship of the Chihuahua desert, and everyday life in two cities along the Rio Grande brew in these pages a concoction of magic, metaphor, and unforgettable songs.
"The novel enchants with the magic of its language and its rich imagination." Laura Esquivel, author of Like Water for Chocolate, from the Polish edition.